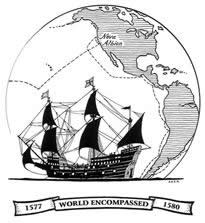 Throughout it's history, the Drake Navigators Guild (DNG) has widely
distributed its work and sought the review of experts in each discipline.
In continuing that tradition, the DNG makes copies of some out-of-print
publications available for personal, not-for-profit uses here.
All copyrights reserved as indicated on each document.
REPORT OF FINDINGS RELATING TO THE IDENTIFICATION OF SIR FRANCIS DRAKE'S ENCAMPMENT AT POINT REYES NATIONAL SEASHORE
A Research Report of The Drake Navigators Guild
by Raymond Aker
1970
This copy of the report is provided for research purposes.
Any reference to this document must reference the printed copy as identified on its title page.
Any hand notations on any pages are to be omitted.
the first section of each scanned section is listed below
Tiff files
Table of Contents and Introduction
Pdf files
Kraak Plate Design Sequence 1550-1655
Identification of the Nova Albion Conie
Porcelains of Cermeno and Drake
THE CERMEÑO EXPEDITION AT DRAKES BAY - 1595 by Raymond Aker
Sebastião Rodrigues Soromenho (Sebastián Rodríguez Cermeño in Spanish)