Safety Quick
Products
CONTAINERS: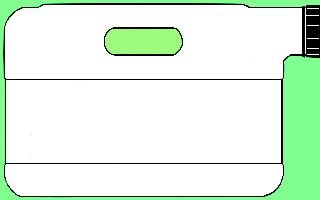 6 quart "no-spill" capacity
7 ½ quart total capacity

Low profile (7" high) in horizontal position for ease of use with the Safety Quick,
Works with SQ Quick-Connect under vehicles without jacking.
High spout to avoid spillage in horizontal position.
Full grip handle for safety in handling.
360 gram / 13 Ounce bottle weight for strength and durability.
Two high stackability.
Produced from High Density Polyethylene (HDPE) for recyclability & durability.
Natural (semi-transparent) HDPE so fill level can be seen.
THE SQ SYSTEM:
The Safety Quick System includes
SQ Drain Plug (female) Drain Plugs in various thread sizes are available to fit nearly every automobile and small truck. Drain plugs are also expected to fit small electrical generators.
Drain Plug Cover
SQ Quick Connect (male) with hose
SQ Adapter cap for use with Safety Quick container

The SQ System has been tested extensively, but is not yet available for sale. Watch these web pages for announcements of availability.

Users of the SQ System must first carefully check that they have obtained the correct sized SQ Drain Plugs. Then, prior to installing the SQ Drain Plug, they must check that they have the correct size Drain Plugs by comparing them to their existing drain plugs. Note that manufacturers' drain plugs vary and may not match industry specifications. Further, some later work or repairs may change the drain plug installed in vehicles. Installing wrong-sized drain plugs (SQ or other) can cause significant drain pan and/or engine damage. When installing SQ Drain Plugs, hand tighten and then tighten one-quarter (1/4) turn by wrench. Be careful not to damage the SQ Drain Plugs. Monitor for oil leakage.
last updated: 06/20/03 06:50:18 PM
Safety Quick PO Box 11271 * Santa Rosa, CA 95406-1217 * phone (800) 275-8081 * fax (707) 573-7302 *email alan@safetyquick.com