Trinity Alps Backpack Trip 2000
On the Thursday before the Memorial Day holiday, Troop 135 took a trip to the Trinity Alps.
When the ranger advised that some areas were very crowded, we changed our schedule to go up to Union Lake at an altitude of 6,028 feet. After a car camp Thursday night, the group headed up on Friday morning. The trail head was at Coffee Creek at 4,279 feet.
The trip began at Coffee Creek. See Map. Then we entered "map 2:" See Map. The rest of the trail is on the map to the south: See Map.
Heading up the hill was challenging for the newer scouts, but they made it!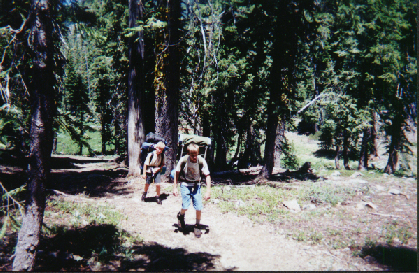 Part way up the hill, we came across some other scouts. While standard hiking procedure is for everyone to meet up every few minutes, this other group had just started down the hill: "meet you at the bottom."
Unfortunately, one of the leaders at the back of the group twisted her ankle. Troop 135 met up with her, stayed with her and arranged for a horseback ride down the hill. (She was an expert horsewoman and was very happy to have a ride down.) Unfortunately, the leader's group didn't know she was being evacuated safely. Once at the bottom, they called for a helicopter.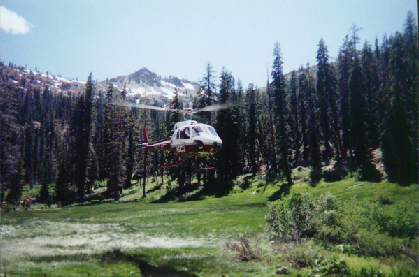 Troop 135 met with the helicopter crew to explain where the "victim" was. The helicopter headed home.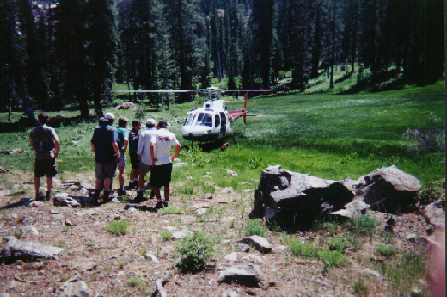 On Saturday, the troop hiked over to the Dorleska Mine area. This is part of one of California's largest gold mines. The tip heaps, old equipment, stamp mill, etc. were very interesting.
On Sunday, before the real holiday crowds arrived, the troop headed home.
last updated: 11/27/00 10:13:43 PM