Eric Von der Porten
1957 - 2008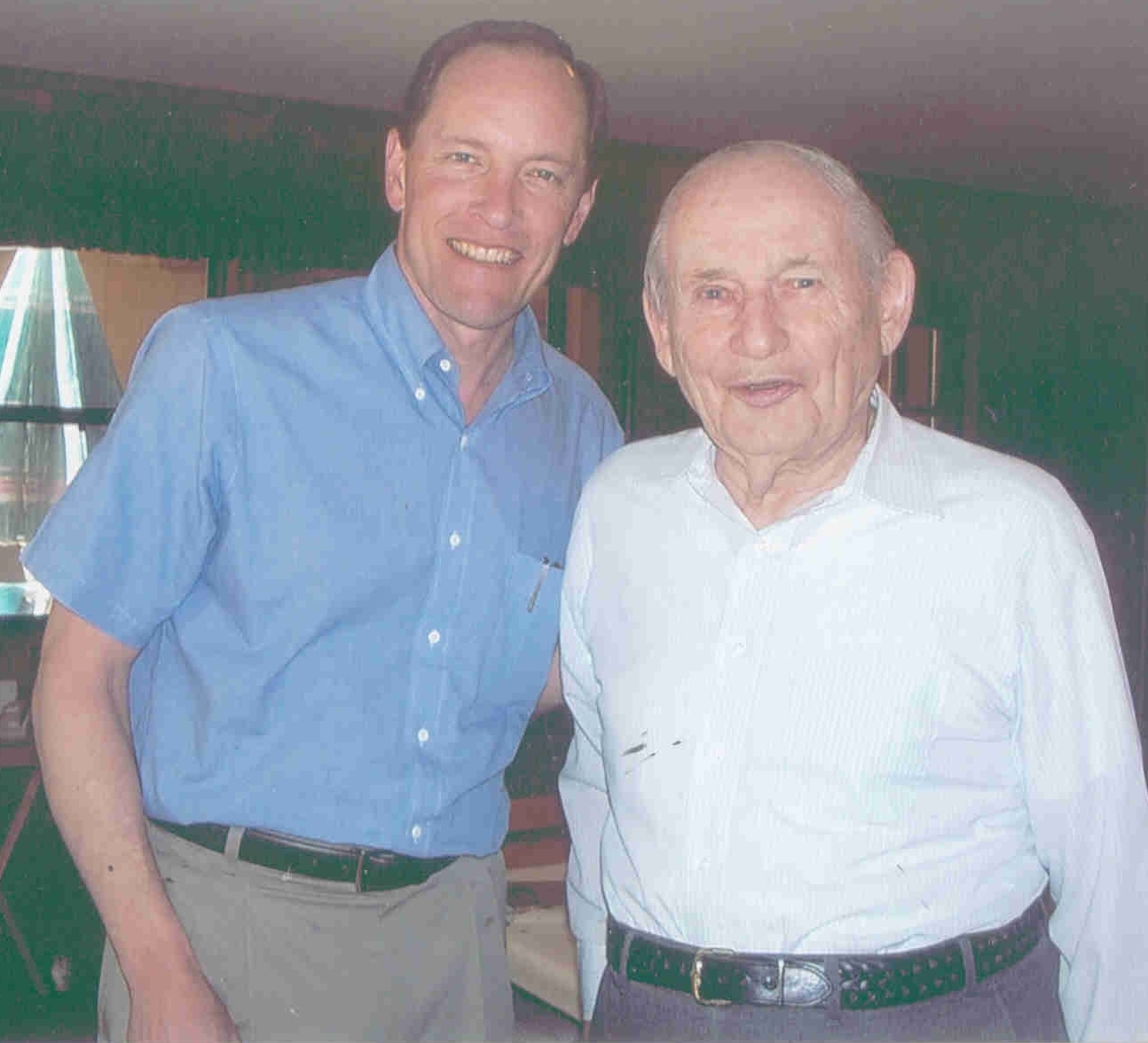 Eric with his great uncle Arnold, April 2008
The a memorial service for Eric was held on January 3rd at
Carrington Hall
Sequoia High School Campus
1201 Brewster Avenue
Redwood City, CA 94062
Thanks to all who attended or sent regards.
Pages from Blood on the Street related to Eric Von der Porten
Press Democrat Article
http://m.pressdemocrat.com/pd/db_3785/contentdetail.htm;jsessionid=9E8717DDD4DCCF6F0A8B6D2EA8191F40?contentguid=f6oxaVmn&full=true#display

http://www.legacy.com/insidebayarea/GB/GuestbookView.aspx?PersonId=121043067

http://www.sfgate.com/cgi-bin/article.cgi?f=/c/a/2008/12/07/MNVONDERPO50.DTL

http://list.arcabama.com/board/?p=120

http://www.smdailyjournal.com/article_preview.php?id=102241

http://www.mercurynews.com/ci_11191160?source=rss

http://www.cnbc.com/id/15840232?video=975010721&play=1

http://www.cnbc.com/id/15840232?video=975272244&play=1
http://www.sancarlos.k12.ca.us/about_superintendent_bulletin.htm
http://wallstreetmorningcall.blogspot.com/2009/01/january-12-2009-morning-call.html
Barrons
http://online.barrons.com/article/SB123154451168869575.html?mod=googlenews_barrons
Suicide - the human toll of a recession
South China Morning Post (subscription) - Hong Kong
A San Francisco hedge fund manager, Eric Von der Porten, took his life last month after his fund dropped by more than 40 per cent on the year. ...

Eric Von der Porten
12/08/08

All of us in the San Carlos School District wish to express our sorrow at the passing of former School Board Member Eric Von der Porten.
Eric served eight years on the Governing Board of the San Carlos School District, including two stints as Board President. He was also instrumental in the campaign and passage of both the Measure D parcel tax and the Measure E bond for the district.
Eric was always known as a Board member who brought intelligence, thoughtfulness, and kindness to the role. I had the honor and privilege of working with Eric my first year in San Carlos while he was Board President. He took a special interest in helping me in my professional transition and introducing me to this community.
I want to extend my personal sympathy to Ericís family. Out school district was honored to have been served by a fine, dedicated, and gentle man. We will miss him.

- Steve Mitrovich

There will be a community memorial service some time in January. I will send a follow-up note when the details are finalized. At the request of his family, if anyone wishes to make a contribution in Ericís name, please do so to either the San Carlos Educational Foundation (www.scef.us) or to the Carlmont Academic Foundation (www.carlmontacademicfoundation.org).
www.winepi.com/eric_von _der_porten.htm